About ALLPRO®
ALLPRO® Corporation is a business-to-business buying cooperative comprised of a network of independently owned paint and decorating products dealers throughout the U.S., Canada, Mexico, and parts of Europe. Our mission is to provide our membership with a distinct competitive advantage in today's marketplace by seeking out only those programs and initiatives that will help improve the operations, market position, and profitability of our member companies. ALLPRO currently serves 270 such companies who collectively represent almost 1,400 store fronts that service the professional trades as well as the consumer market.
Our History
ALLPRO Corporation traces its roots back to 1960, when three independent paint retailers, Leon Sternberger of Pittsburgh, Max Goldust of Cleveland and William Seward of Toledo, met to discuss a growing industry concern. Their concern was over a trend among major paint manufacturers, who had begun focusing their efforts on opening company owned stores to distribute their products to the consumer. Secondly, mass retailers and home centers not only began to proliferate but began to offer national paint lines at cut rate prices as well.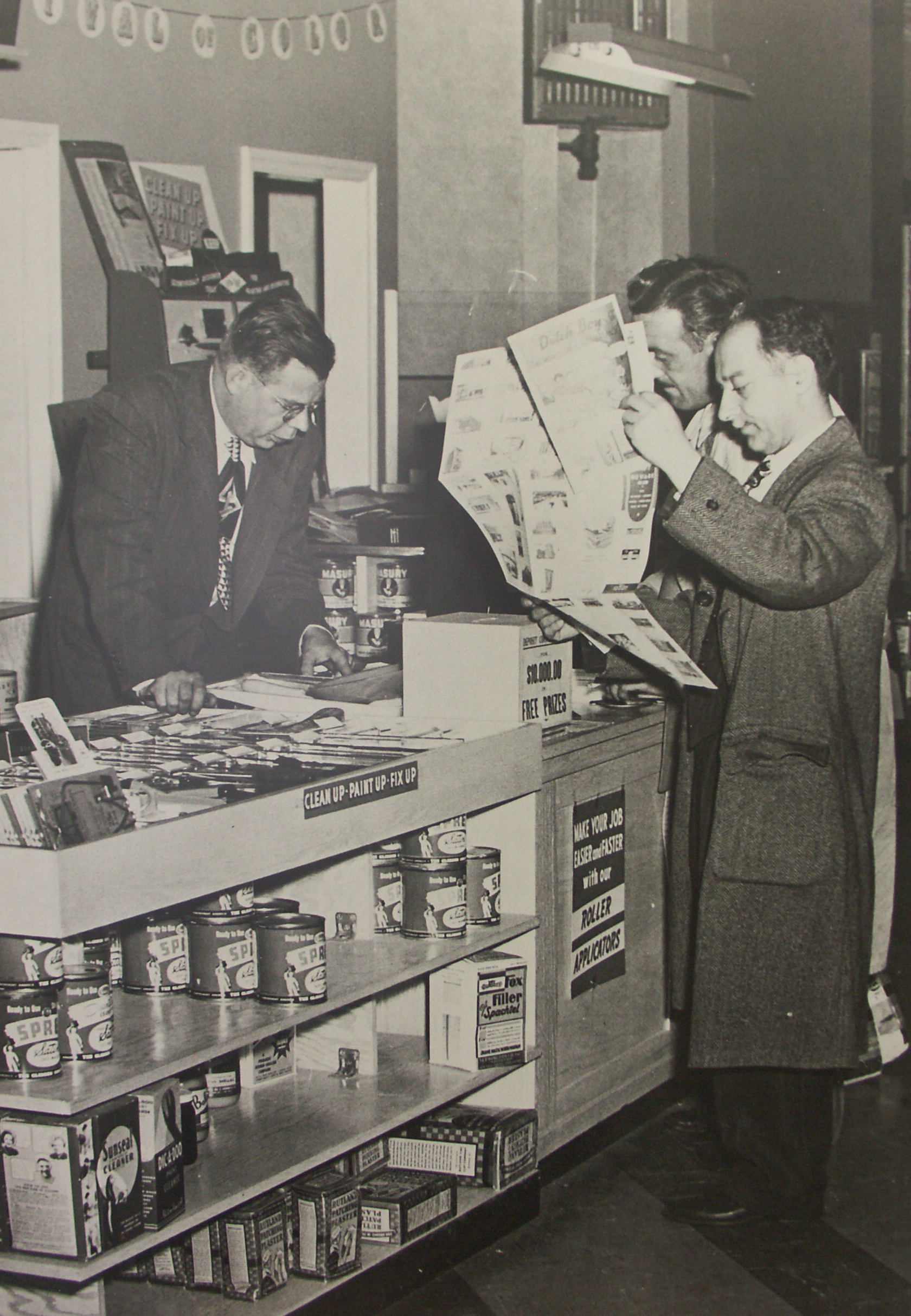 Unfortunately, this left the local "mom & pop" paint store in a tough spot. It was difficult to compete with the national paint manufacturers who emphasized their company owned stores over the local independent. And the home centers and mass merchants often sold paint at deep discounts. Customers who normally frequented the local independent for their expertise and product knowledge began shopping at the home centers strictly on price.
Many retailers felt that to combat this competition, they had to reduce their prices on national brand products. This had a domino effect on the entire industry. In most of the larger cities, competition became so acute that in many cases well known paint products were being sold practically at cost, and yet the independent dealer was still offering all the services the customer had come to expect, while the discounter offered few or none of these services.
Some independents decided that the answer to the problem was to develop and promote their own private label product lines. Many were doing this successfully but some found difficulty in meeting the standards of the major brands. Color cards, sales aids, color systems, label designs, etc. were all very costly when produced in limited quantities. In addition, there was a stigma associated with private branded products in those days. It was generally thought that anything with a national brand label was acceptable and that private label products were second rate. It took a good deal of salesmanship to convince a customer that a private label product was as good as or better than the highly advertised national brand.
The solution Leon, Max and William came up with was simple. To compete with the national brands and big box retailers the independent would need to collaborate to develop a brand exclusive to them that could be leveraged in the marketplace. The three approached industry insiders Ed Koretz and Herb Kimmerle, who had been instrumental in forming the Chicago Paint Dealers Association and Retail Paint & Wallpaper Dealers Association (today known as the Paint & Decorating Retailers Association) for help. Leon, Max and William envisioned the formation of a national association of reputable independent paint retailers in every market area to join together to develop and promote paint and paint sundry products under a common label. Ed and Herb not only had an understanding of how to form such a group but were well known in the industry and were able to develop a list of retailers who might be interested.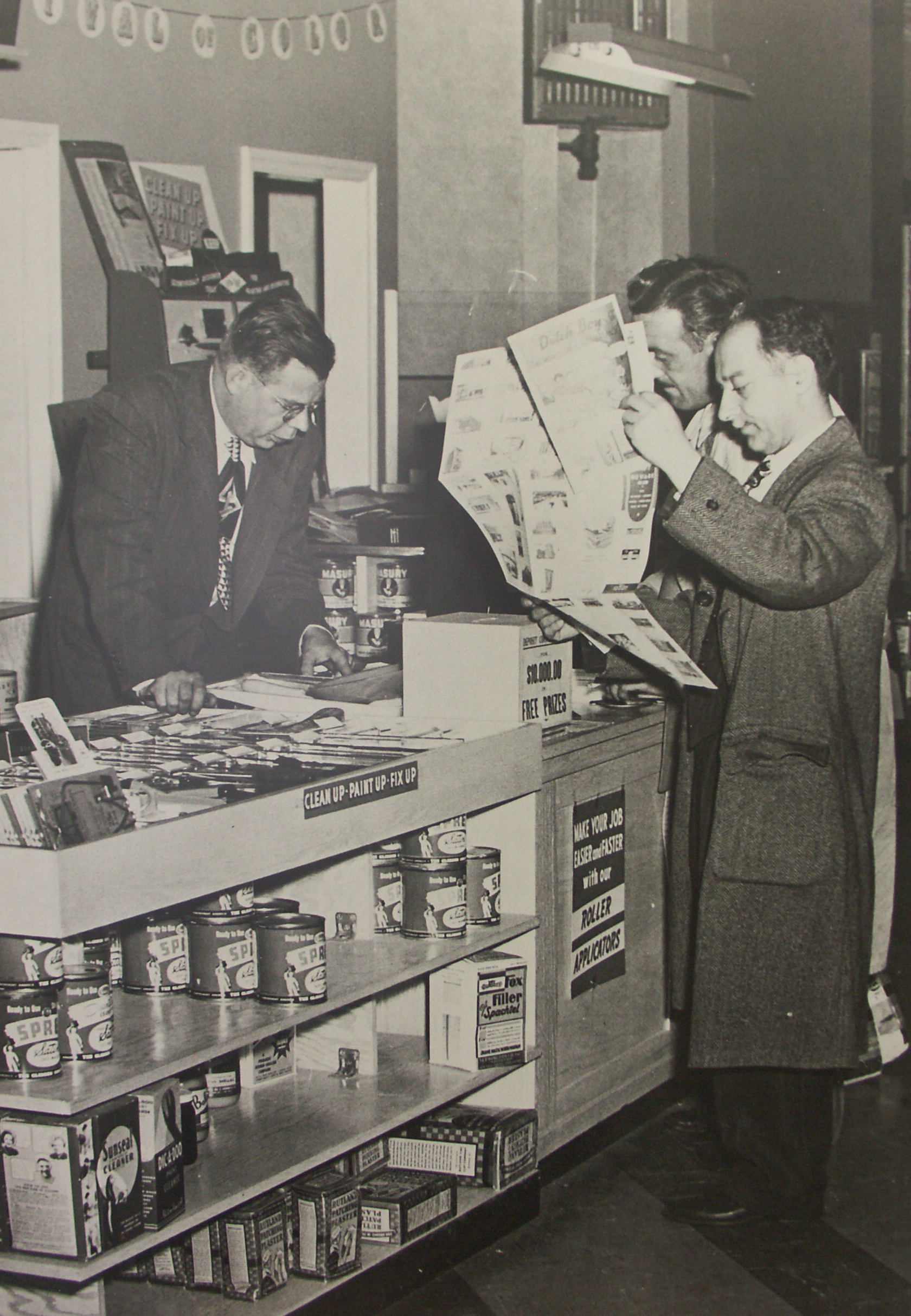 Invitations were sent out and in November of 1959 about 50 retailers met at the Conrad Hilton Hotel in Chicago to discuss their future. Of the original 50 companies only 16 were able to commit to the formation of the organization but at the end of the day, ALLPRO Corporation was born. As independent retailers, some of whom had been in business for over one hundred years; it was widely held that the retailers were best qualified to determine the products that would be marketed under the ALLPRO brand. For that reason a committee comprised of a cross section of member retailers was formed to begin work on the line of ALLPRO products.
The brand initially consisted of a single paint line but quickly grew and expanded to include professional and consumer grade applicators, caulks and sealants, clear wood finishes, and airless spray equipment to name few. Today ALLPRO brand products are available in multiple paint and sundry categories and each is still vetted through a committee of independently owned paint & decorating product retailers for quality before it is given the ALLPRO name.
Likewise, the group has grown to over 270 member companies throughout the United States, Canada, Mexico, and parts of Europe. In addition to providing customers with the exclusive line of ALLPRO products, each member company is committed to providing only the highest quality customer service and technical expertise. So look for your local ALLPRO member retailer today and begin a relationship with a company you can trust and rely on.